A Birthday Party for Someone Turning 90
Provides a Day for Friends to Get Out of the Nursing Home
By Leslie Eckford
I have a dear friend, Renee, who has a lot of energy, humor and moxie.  This came in handy because her summer project required all of those characteristics and more.  She decided to have a 90th birthday party for her mother in July.  No, not a simple gathering of family, but a gathering of her mother's peers and contemporaries.  Not only are they scattered far and wide, but a few are residents in nursing homes.
Her mother, Lois, is an independent, smart and outspoken individual who lives where she has lived for most of her adult life: in her own home.  It is in a rural setting, the kind of place that even if you are given the directions, you might get lost on a country lane trying to find it. Her friends are mostly people who have lived in this same bucolic area that is perfect for big vegetable gardens and busy summers in the outdoors. The neighbors' homes are spread out and literally down the road from each other rather than side by side. The neighbors have always been there for each other. To Lois, it only makes sense to live in her own home and now does so with the help of a super caregiver (age 78 herself!) and Lois's daughter Renee.
So, when it came time to have a big birthday bash, it had to be a time to celebrate dear friends and friendship. What kind of party would it be without them? As we get older, we lose our friends at an alarming rate.  We realize how precious they are.  The guest list included friends that had shared community work, raising children, church and sense of place. Renee hunted them down, one by one. A few were still nearby, and some were in local nursing facilities. Once she found them, she became a charming fixer: matching younger able bodied friends, college age family and every acquaintance she could find with accommodating vehicles to get the special guests there.  Some of the attendees had not been on such an outing in years.
The first hurdle was finding a place that this many seniors could access with walkers and wheelchairs.  Renee found this part of the planning to be one of the hardest.  She had to rule out her mother's home (too far away for some who had moved to town and too small).  Her own home (in another town and too many steps) and the first restaurant she checked into was way too costly. Even the church had logistical nightmares for seniors with an unsuitable basement entrance and a less than cooperative pastor. Finally, she found a friendly restaurant that had a large private room, with wheelchair access and a reasonable price.
Then, the fun began.  Renee thought of her mother's favorite colors.  She struck gold at the Dollar Tree that had abundant flowers with those colors and baskets to make table arrangements.  She found just the right bakery to make her mother's favorite cake.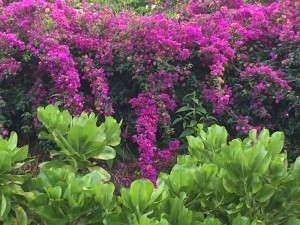 On the big day, Lois' out of state children arrived to join the festivities.  Friends began to arrive from around the county. Lois' caregiver was proudly seated with friends. The smiles were many and the joy of the guests and the guest of honor priceless. Some guests loved the table decorations so much that they wanted to take them home with them.  Renee happily sent these mementos along with these special friends.
What does it take to do something like this? It took planning with military precision, recruitment of multi-generational helpers and aides, and most important, sheer will power.  Was it worth it for one birthday party?  Absolutely, positively yes!
Do you have a story of springing some old folks out of their home or nursing facility, even for a day?  Please share. And for some practical tips on having a birthday party for someone in their 90's please check this link:http://www.wikihow.com/Celebrate-a-90th-Birthday-Party