We all know a knitter: that productive person who creates beautiful handwoven garments while the rest of us are doodling through meetings. Now, those industrious knitters are making a product for people who also need something to do with their restless hands: Twiddle Muffs.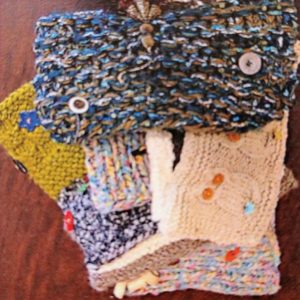 The Twiddle Muff, also known as a sensory muff, is a thick hand muff with "bits and bobs" attached inside and out. It started out as a volunteer project at a hospital in the UK and has caught on with knitters around the world. The muff is designed for comfort, warmth and a calming activity for people with dementia. It is now also a tool for other groups of people, such as those in hospice, with autism and others who need comfort. As individual creations, the muffs are a boundless source of visual, tactile and sensory stimulation. It can be soothing when someone is feeling agitated. It can provide a useful distraction for those who have developed a habit of picking at skin or other potentially damaging repetitive actions.
Twiddle Muffs can be knitted, crocheted or even made from recycled sweaters.
To learn more about the origin and making of Twiddle Muffs, enjoy the following video. Contact your local aging services to join others in donating your creations to those who need them.