In Appreciation to All the Snowbound Caregivers
by Leslie Eckford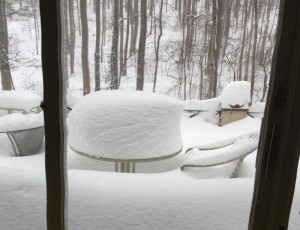 All over the east coast this weekend, there is a raging snowstorm.  This severe weather is continuing to dump massive amounts of snow with wind gusts threatening power lines throughout. So far, ten states have declared a state of emergency.   From North Carolina northward to Philly and New York and beyond, people have been preparing, stocking up on food, wine, sleds.  Lots of folks are making the most of a bad situation and having a great time.   It is a rare opportunity to isolate, catch up on reading and movies.  Kids are delighting in time off from school and building snow forts. But, it may be a different story for caregivers.
A dedicated army of professional caregivers and their frail elderly clients are also stuck for an unknown period of time together.  The next shift can't get there on the treacherous roads. In many affected cities, public transportation has come to a standstill. It is too hazardous to get out.  Here at MindfulAging, we hope that they all have the food and shelter that they need, heat and electricity and water.  We know caregivers are doing everything that they can to make it a better experience.  They are playing board games, sharing online newspapers since there is no paper delivery, helping elders make phone calls to family to stay connected, taking stock of food that can be served without heating, and gathering extra blankets and clothes just in case.
We want to salute and thank all of you caregivers. Whether you work as private care or with a care agency, we know that you choose not to abandon your clients in urgent situations.  Your own family and children may be hunkering down the storm without you.   You make a lot of sacrifices to keep our elders safe and properly cared for.   Here's to you with gratitude!